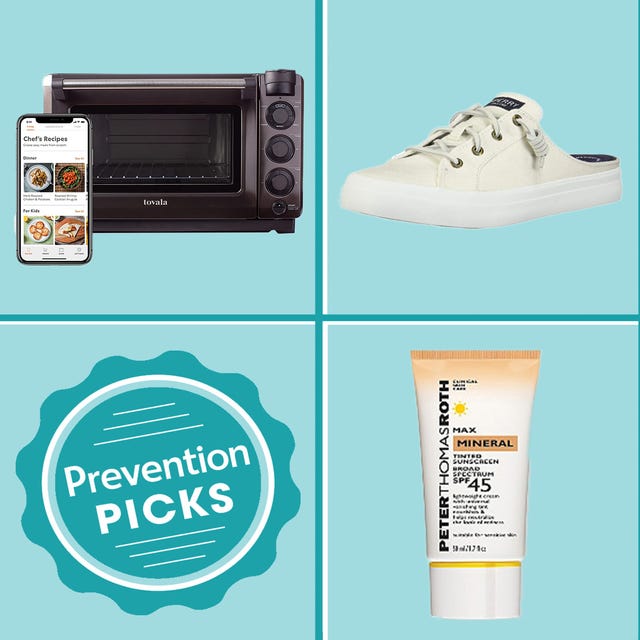 Amazon
At Prevention, we take pride in picking the best products for our readers. Our mission has always been to highlight top-rated, expert-backed selections that truly solve a problem for you, make your day easier, or bring joy to your life.
That's why we curate Prevention Picks each month, where our editors hand-select products that have genuinely made a difference in their lives. From brand-new launches to tried-and-true favorites, we shout out beauty products worth your money, fitness gear that will elevate your workouts, convenient gadgets for your home, tasty snacks that stand out from the rest, and so much more.
This month you'll find essentials that will elevate your routine. We're sharing a top-rated creamy concealer that won't settle into fine lines but will reduce the appearance of wrinkles, a mini massage gun that works wonders at removing knots on tricky spots of the body (like the lower back!), and a smart oven that comes with a meal subscription, so you never have to worry about what to cook for dinner.
Our editors also came across the best running shorts that won't fall down during intense workouts and will keep you cool as the temperatures climb, thanks to moisture-wicking fabric. Pair the shorts with our favorite comfy mule sneakers, and you're all set to go about your day.


Ahead, check out our latest finds—they make for great gifts, too. And who knows, you may end up stocking up on a few for yourself!
1 Max Mineral Tinted Sunscreen Broad Spectrum SPF 45
I've been using this tinted sunscreen for the past month or two and it's one of the few I like using: The mineral formula is so gentle and never stings or irritates my eczema-prone skin. Its sheer pigment helps even my skin tone when I'm not wearing foundation and makes it so the high level of zinc oxide and titanium dioxide doesn't look pasty on my medium skin tone. Perfection!
— April Franzino, Beauty Director
I'm stepping up my weight training and working on my balance and WOW have I been sore. My new BFF is this small, cute, but incredibly powerful massage gun, which I love because it's so light (1.1 lbs, as opposed to the huge, heavier ones). This means I can apply it to tricky spots like my lower back and buried glute muscles without losing control—a problem I have had with heavier ones I've tried.
It comes with accessories that work for different body areas, and because the vibration is so strong, it affects tissue more deeply than a surface massager. I also had surgery on my foot, which meant I wasn't walking a lot. This massager helped with blood flow to my calf. I use it after I cool down and it helps with recovery.
— Stephanie Dolgoff, Deputy Director, Health Newsroom
3 Aromatherapy Locket Bracelet
On days when I think there's a chance that I may be challenged by anxiety or stress, I put on my aromatherapy bracelet. Then if I feel the need to use it for a calming effect, I can casually raise my wrist up to my face and catch the scent of lavender (my fave aromatherapy oil) and feel grounded once again. I also love to give this as a gift because who wouldn't like a bit of tranquility on demand?
— Sue Kakstys, Production Coordinator
4 Self Tanner Tanning Lotion
Finally—a product that doesn't turn me orange when I want a little bit of summer glow! Beauty By Earth Self Tanner was recommended to me by a friend, and so far, I'm loving it. I applied it two days in a row for a perfect bronze (make sure you're using a mitt to rub it in perfectly!) that lasted for more than a week and faded gracefully. It comes in two shades—fair to medium and medium to dark—and can also be applied to your face. There's plenty of product to work with, it's cruelty-free, and it contains moisturizing shea butter, coconut oil, and other great stuff to keep skin soft.
— Allie Early, Digital Director
There are few things more annoying than constantly hiking up your leggings or yoga pants—exercisers, am I right?! Well, the same thing holds true for running shorts. I want to focus on my workout, not worry about readjusting the waistband when it slips down as I move, and I don't want to mess up my stride trying to yank my short legs down whenever they ride up.
These Brooks shorts are the answer to my fussy runner prayers: they stay put for as long as my workout lasts, and they hold everything in so I feel confident. They're super comfy (no squeeze-you-so-tight-you-can't-breathe type fit) and moisture-wicking, so I can wear them more than once between washes. Oh, and did I mention they have pockets large enough to hold a phone and keys, but streamlined enough so as not to disruptively jostle around? Two words: Buy now!
— Alyssa Jung, Senior Editor
6 Love Sculpt Seamless Legging
I can't get enough of these high-waisted leggings—they're so soft and comfy! They squeeze you in to feel fully supported but still allow you to breathe comfortably. The ribbed texture makes them slightly different from most leggings, so you feel like you're wearing something special. Plus, they are completely opaque around your bottom, so you don't have to worry about undergarments showing through.
— Kaitlyn Pirie, Senior Editor
7 Shape Tape Ultra Creamy Concealer
Tarte's original Shape Tape concealer has a cult—and I mean cult!—following, but somehow this new version is even better! It's smooth and (like the name says) super creamy, so it blends seamlessly into skin, whether it's on your under-eyes, blemishes, or to conceal discoloration. I love that it never pills when used with eye cream or any other product, which unfortunately can happen easily with concealers. As a tired mom with two little kids, this product has become an instant must-have!
— Dori Price, Freelance Beauty Editor
I'm a major mochi ice cream fan (a rice dough dessert filled with creamy ice cream), so I jumped at the chance to try Yasso's new mochi filled with their signature frozen Greek yogurt. These are amazing and I haven't stopped eating them! Each mochi comes individually wrapped for the freezer, so I don't have to think about portioning it out for myself and they're only 80 calories apiece. It's the perfect nighttime treat that is so sweet and satisfying, made with recognizable ingredients, and I look forward to eating every night. I'm a huge fan of the vanilla, but you can also try them in chocolate, mango, and strawberry!
— Arielle Weg, Associate Editor
If you know me, you know that SPF is my BFF. I never leave the house without sunscreen—yes, even on cloudy days. I've been using this tinted sunscreen for a few months now and it quickly became a staple in my makeup routine. I replaced my old primer with this product, which does double duty as both an SPF and a primer (so I don't even have to remind myself to put on sunscreen). Plus, it has light, dewy coverage to even my skin and gives me a little extra glow, whether I put foundation on top of it or not.
— Catharine Malzahn, Beauty Assistant
10 Eyelash Primer & Mascara Double-Ended Volume Set
I have gone to great lengths (so to speak) to transform my long, straight lashes into curly, voluminous ones. So when RevitaLash sent me this double-ended mascara, I was intrigued. After testing it out, it's become my new go-to! I love that it not only adds some volume to my lashes, but it comes with a blue primer that nourishes each individual lash to help fan out and thicken (and curl!) my lashes. I love that it's a deep black shade, too. And really, what sells me on it, is that after a long day of wear, I don't have dreaded dried particles falling under my eyes like I do with so many other mascaras.
— Emily Goldman, Senior Editor
I'd like to think I have a good sense of direction, but I really don't. So while we got this for my son for our Utah hiking vacation, I loved it, too. Most of our hikes were well-marked, but when the trails split off, it's reassuring to know you're heading along the correct one (in our case, the two-mile loop, not the 10-mile out and back!). It's lightweight but sturdy: My son learned to use it quickly and wore it around his neck through five national parks and was proud to keep us on track.
— Sarah Smith, Editor in Chief
12 Gen 2 Steam Countertop Smart Oven
This smart oven has changed the way I view cooking. Now that we're back in the office, by the time I get home at the end of the day, I'm too exhausted to make dinner. Fortunately, with the Tovala meal subscription, I can just pop one of their tasty meals into the oven, wait for it to heat up, and dinner is ready!
The smart oven is programmed to use heat and steam and can scan and cook up to 850+ groceries. You can use it to steam, bake, broil, toast, and reheat. It's a game-changer for your kitchen.
— Shauna Beni, Associate Ecomm Editor
13 Crest Vibe Mule Canvas Sneaker
I love an easy, step-in shoe in warm weather—but I also like support, as well as shoes that actually stay on my feet as I walk. (Doesn't seem like too much to ask!) These mule sneakers by Sperry are super-cute, with a memory foam insole (comfy!) and a grippy sole. I wore them all day and the first time out: no blisters, and my feet didn't feel tired, the way they often do after a day of trying to keep slip-ons from sliding off.
— Lisa Bain, Executive Director, Health Newsroom
14 Molecular Anti- Inflammaging Serum
I'll be honest: I've only been using this serum for about two weeks, but I am obsessed. And, at a higher price tag than I'm used to—I really didn't want to love it so much. I am extremely picky with what goes on my face, but this product has truly won me over. It combats texture, redness, and dryness with vitamin C, peptides, and red maple bark extract while HX1, the brand's patented ingredient, targets inflammation and visible signs of aging at the cellular level. Over two weeks I've noticed, brighter, smoother skin with an extreme reduction in redness and blemishes that seem to fade almost overnight.
— Shannen Zitz, Editorial Assistant
This content is created and maintained by a third party, and imported onto this page to help users provide their email addresses. You may be able to find more information about this and similar content at piano.io